What do you do with all those beautiful (and not so beautiful) leaves your littles collect up on their fall adventures?  Or, maybe you're like me and it's not just your kids collecting those leave.  I can't help but see visions of endless dried leaf art projects as I crunch my way down the sidewalk.
So, to resolve this leaf-collection addiction, below is a collection of art with dried leaves ideas our family is itching to make.  Some of these crafts are simple enough to kids to do alone, some will need a bit more guidance.
(This post contains affiliate links for your convenience. If you make a purchase through my link I receive a small commission at no added cost to you. I only recommend stuff I use and enjoy. See my policy page for more information)
A collection of leaf art ideas for the young and old
Here's a video compilation of Mother Natured's leaf crafts.  Watch this to get your creative thoughts flowing.  Leaves really are a versatile crafting medium.
The Leaf Wreath:
In its simplest form, take some leaves then glue, tie, or weave them into a circle.
This leaf wreath pictured below is a more involved design where the stems and leaves are woven together.  Because of this, this leaf art projects are more appropriate for adult hands.  You really must check out this tutorial by Ruffles and Rainbows; it is a very beautiful technique for leaf crafting!
If you do decide to try your hands at leaf weaving, your littles can still be in charge of picking the leaves, hanging the leaf wreath, and modeling the finished woven leaf crown!
Leaf Candle Holders:
Years ago my parents were gifted a large wax candle holder in which leaves had been layered into the bowl.  I loved to sit and watch the candle light dance around those red maple leaves.
While this leaf luminary below isn't a wax bowl, I imagine the end result when lit will be quite similar.
You'll like that this leaf luminary is easy enough for toddlers to help with, but pretty enough for gift-giving.  Or consider grouping 3 or 5 of these leaf luminaries for your rustic Thanksgiving centerpiece.
Fun Kids leaf art projects:
Crafts don't have to be overly complex for littles to enjoy them.  I like that the leaves used in this tree leaf craft are natural and crinkly.
Sometimes you or your kids might need some inspiration for leaf crafting.  This book:  Look what I did with a leaf!  did just the trick for this simple leaf art project.
These autumn leaf people from Thimble and Twig are so adorable!  My little saw them and asked to make them right away.  Unlike some of the leaf crafts in this collection, this is very much a kid-directed activity.  Let their imaginations run with this idea!  These would be a great preschool or kindergarten class fall activity.
I must have done something similar to these leaf suncatchers below many decades ago because reading through this leaf suncatcher plate tutorial brought back memories of me at a a tiny table with tiny hands placing leaves in my own plate craft.  Although, I feel like we may have used waxed paper back then.
Skeleton Leaves:
Aren't these amazingly cool?  Such a fun fall science activity!  To make skeleton leaves you'll need to use some harsher household chemicals, so it's definitely an adult-directed activity, but what a great hands-on learning craft!  I wonder how well these would hold up as framed artwork after the skeletoning process?
The Leaf Clay Dish:
Here's another leaf art project lovely enough for gift-giving or for long-term display in your home.  The process for making these leaf clay dishes is one that elementary school aged kids could do with minimal adult assistance.
Varying the size and shape of the leaf and clustering a group of these clay dishes would make a nice table top decoration or wall hanging.  I wonder how well they would hold up as chimes or as a mobile?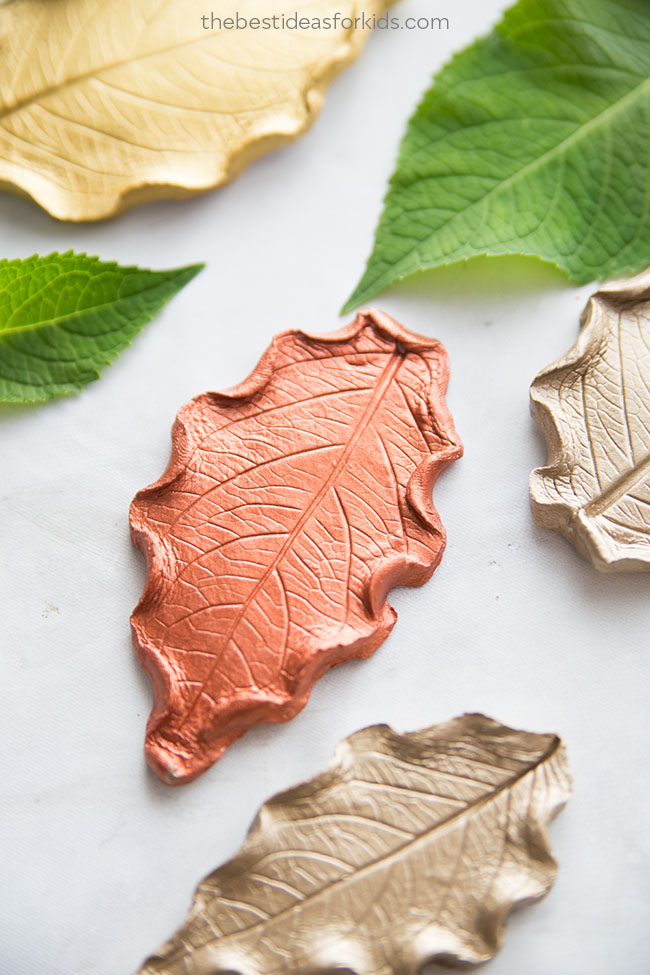 Here's another version of the same leaf pottery idea, just in a video format.
Are you as eager as I am to get started on a new leaf art project?  Even if it is not fall where you are you could use fresh leaves for many of the ideas above.
Is there a particular leaf craft or art project that you have made with great success in the past?  Is there an idea above that has you eager to start crafting?  Please share below in the comment.  We'd love to hear about it!
What should you do now?
If any of these crafts interest you, then go ahead and pin it to your kid's craft board so you'll remember them when your leaves are dry and ready.
Join the Take Them Outside Newsletter for tips, activity ideas, news, and inspirations to become more outdoorsy family
Other posts you'll enjoy reading:
<