Bring nature inside and make it the centerpiece of your thanksgiving dinner with these simple and inexpensive fall table decorations.
Below you'll find a collection of diy tablescape ideas perfect for your thanksgiving table or mantelpiece.
Bring Nature to your Table
Take a walk through your local woods and bring back some of the colors and shapes you see there. Think twigs, leaves, dried grasses, pine cones, acorns, seeds, and berries. Get your littles involved. They'll love hunting for all these treasures!
Once you've brought home your finds, hunt through your cupboards for jars, bowls, candles, and some bling to combine it all together.
I keep a little collection of interesting shaped jars. The collection contains a mustard jar, hot chocolate jar, iced coffee jar, and I think even a tiny jar I purchased some capers in once. If your'e not into junk collecting like me, simple mason jars, glass jugs, wide mouth basins, even large glasses, and salad bowls will work.
Style up your display by adding wicker baskets, linen, twine, ribbons, and candles.
Right now, on my kitchen table, I have two dried onion flowers sitting in a re-purposed hot chocolate glass jar, and a large flip-top mason jar full of dried leaves and pine cones. It's not fancy at all, but I love it! Would it be formal enough for a family gathering? Well, I guess that depends on how formal your family gathering are…
Read on for more
simple fall table decoration ideas

below:
Branches and Pinecones on a Lace Table Runner
Such a simple idea. I appreciate that she uses real branches and pinecones. You could even glue them in place if you were worried about them getting jostled on the table or little fingers rearranging your placements.
A Jar-Filled Centerpiece
This is a good example of my above recommendations. This style of centerpiece is very simple, very inexpensive, and shouts fall. Jump over to Confessions of an overworked Mom to read how she made these fall centerpieces in less than 5 minutes.
Nature Inspired Place Settings
Go ahead and throw some of your treasures onto the plates too! Although you should probably wash them first!
Love my Simple Home has a few nature inspired table setting suggestions from simple to fancy. I preferred this country style thanksgiving decoration. Isn't writing on the leaf a cute idea?
Notice that the table is covered in a burlap-type fabric?  What an interesting idea that complements the pinecones and leaves nicely.
Ice Lanterns with nature treasures
My kids and I make these every year for the winter solstice, but they look beautiful on the dinner table throughout the holiday season!
READ MORE: Here's the post with complete instructions for ice lanterns here!
Pinecone Name Holders
True, these aren't really centerpieces, but they're cute and they'd look lovely on a table with a few bouquets of branches, dried grasses, and a little few baby pumpkins!
Want to make these? Oh, and your guests can take them when they leave because they're also little fire starter gifts. Go check out Toni from Boulder Locavore, and she'll show you how to throw these firestarter place holders toghether.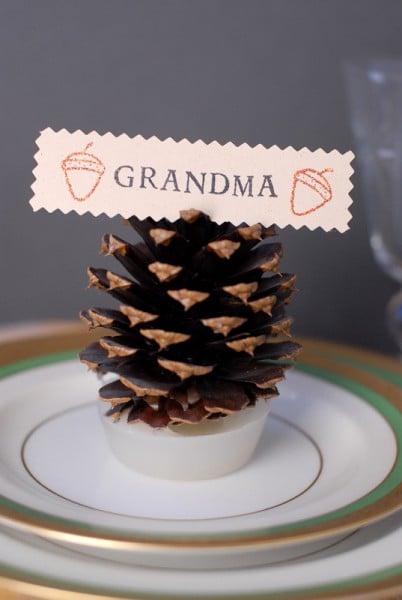 The Fanciful Nature Inspired Fall Table Decoration
Isn't this lovely? Well, except it's all plastic! Really, people, just head outside… Instead of taking a trip to the craft or dollar store, take a trip to the nature trail.
As long as you clean everything there's no worry of bugs or dirt. Sure, it won't last as long before the leaves crumble, but when you're done, just throw it back outside under a shrub, instead of into the landfill! This is a Better Homes and Gardens Fall Centerpiece Tutorial, (but I don't really think they have the right to call it natural).
Did you get any ideas? Are you feeling inspired to put some nature onto your table this Thanksgiving? If you do, I'd love to see some of your own nature inspired simple fall table decorations!
What should you do now?
Go for a walk and collect up some of nature's treasures to arrange into a table display!
<